Tough Love Yoga 300 Hour Advanced Teacher Training, 2020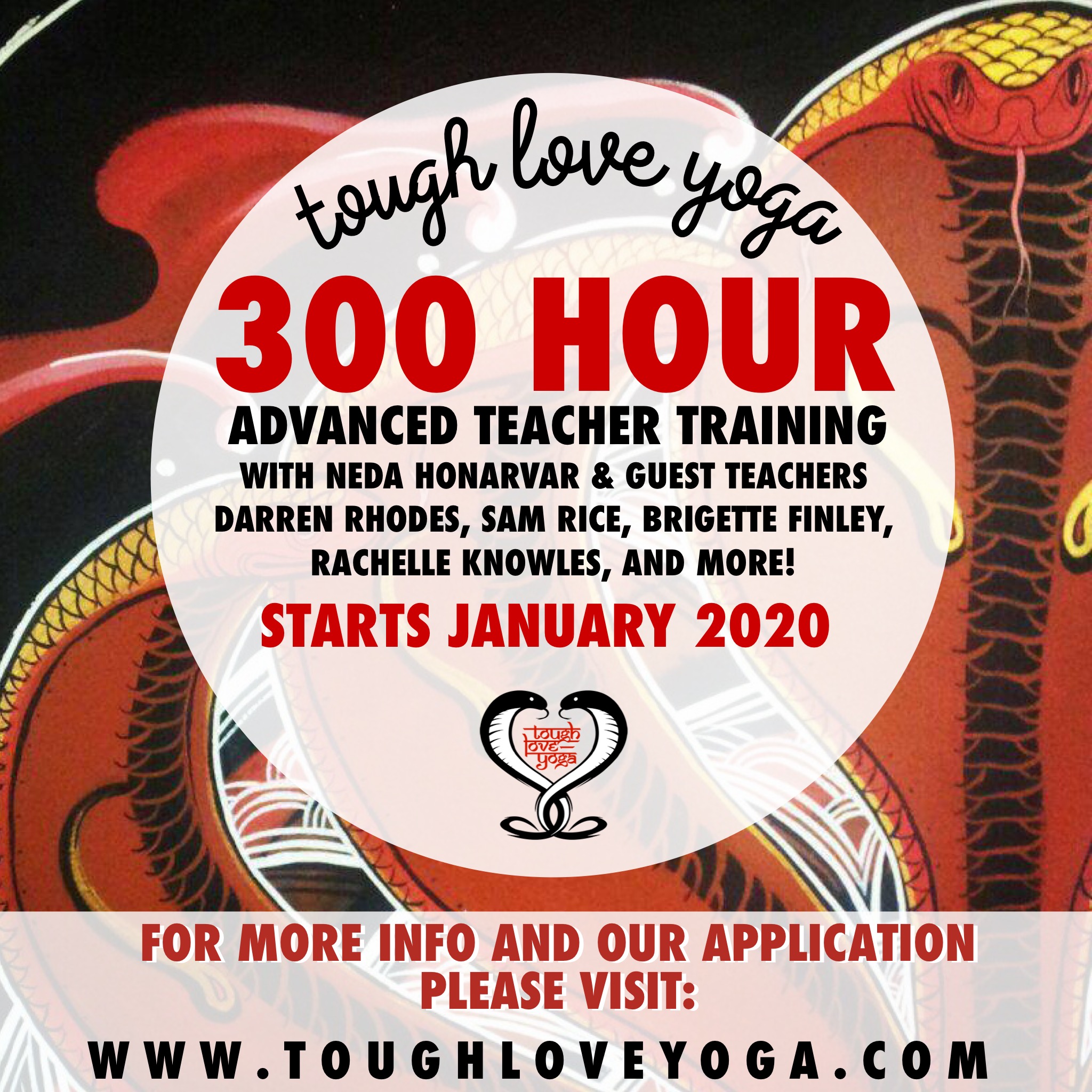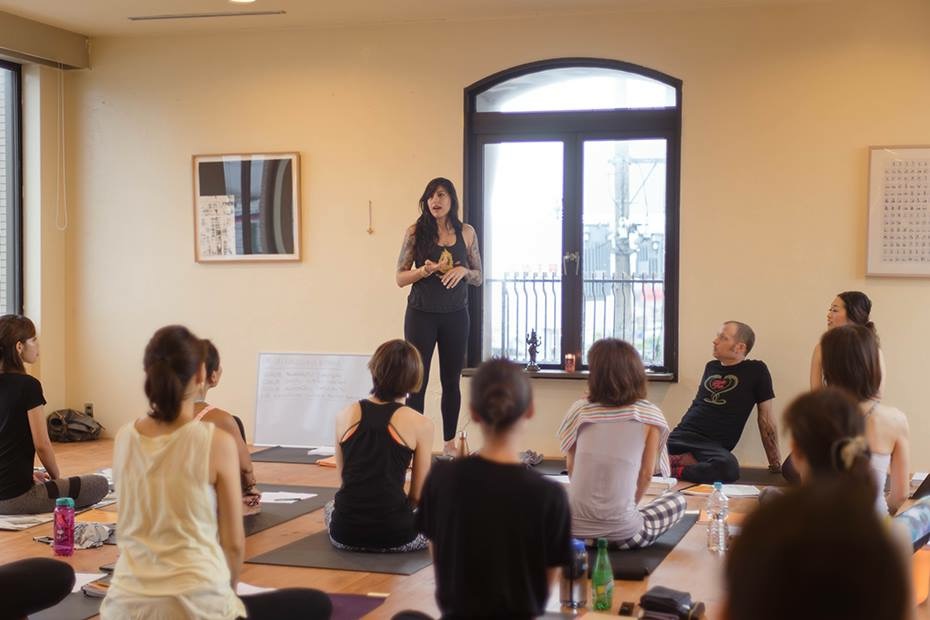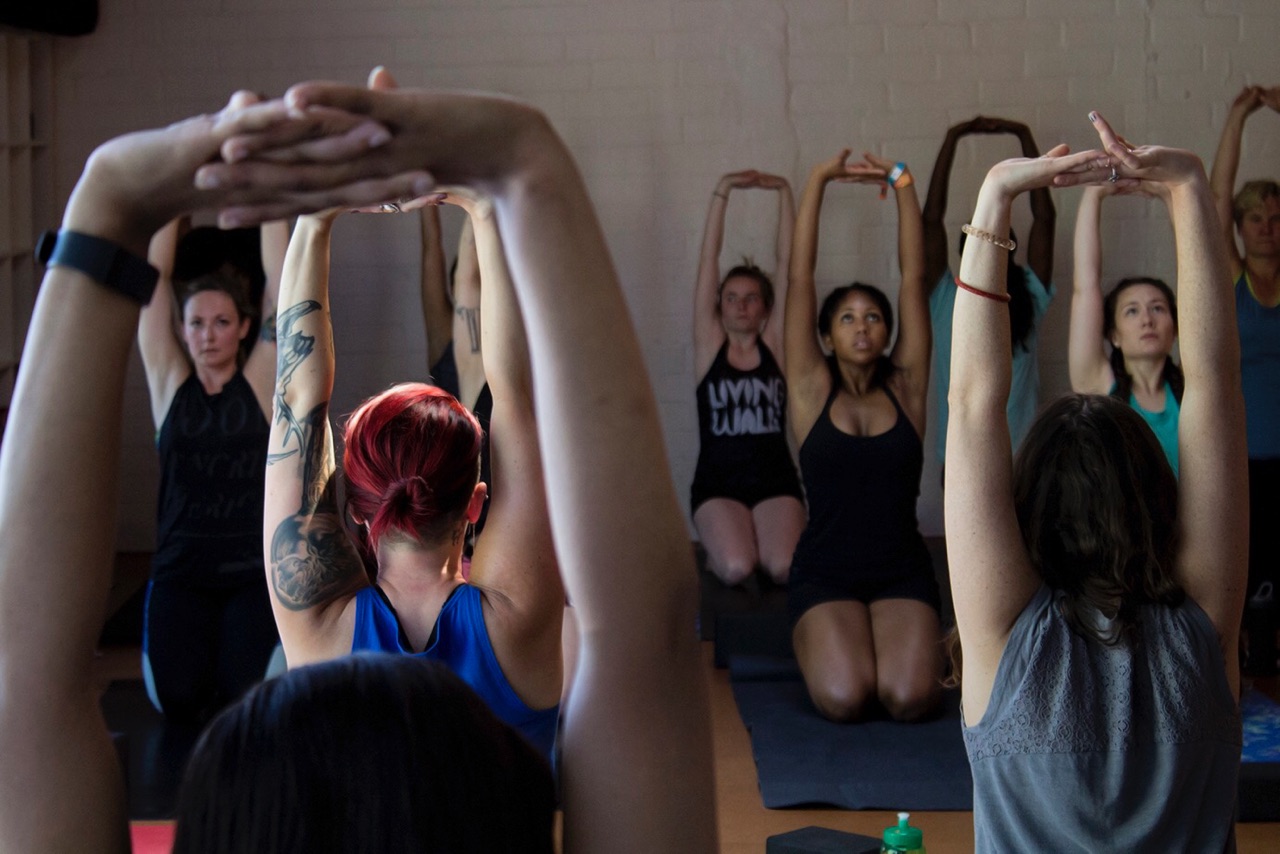 Tough Love Yoga's 300-hour Advanced teacher training is designed for 200-hour certified teachers who wish to dive deeper into the art and science of practicing and teaching yoga. Ideal candidates are passionate about asana, have a deep desire to expand and refine their teaching skill set, are interested in diving deep into yoga philosophy, and wish to immerse themselves in a supportive community of learning, transformation, and growth.
Topics covered in this training include:
Universal Principles of Alignment and Action

Principles of backbends, forward bends, arm balances, twists, and inversions

Functional Anatomy & Biomechanics

Sequencing strategies for everything from vinyasa flow to basic, intermediate, and advanced hatha yoga classes and workshops

Prenatal Yoga

Yoga mythology and philosophy through the lens of the Gods and Goddesses, crazy wisdom teachers, and yogic texts

Pranayama, mantra, puja, and meditation techniques

Practical Sanskrit

Teaching Ethics & Taking the seat of the teacher

Teaching methodology, including modules on verbal skills, observation, demonstration, order of operations, prep and pose, and more

Creativity and Consistency

Business of Yoga

yogahour teaching technology and methodology

This training provides a comprehensive exploration and integration of yogahour® teaching technologies, which were developed by Darren Rhodes, to bridge the gap between flow and form in a wide range of class settings. These 300-hour, expert level tools provide teachers with a deep understanding of how to use shape, safety (strength), and refinement (stretch) instructions skillfully and strategically to help students practice asana more safely, efficiently, and effectively. These teaching technologies combined with functional anatomy, observation, demonstration, and adjustment modules will offer trainees the opportunity to learn more about the "hows" and "whys" of the poses and gain the skills necessary to add clarity, depth, and precision to their instruction.

Considerations and strategies for teaching trauma-sensitive yoga

Cultivate Resilience: This weekend immersion with Rachelle Knowles supports yoga instructors in creating trauma aware spaces. Through movement, lecture, discussion, and personal inquiry, we will explore the following topics: trauma, oppression and domination, self observation, personal responsibility, the wisdom of nature, and healing. Information will be shared within the scope and context of leading a yoga class in a studio or in the community. This offering is open to all levels of yoga teachers, new and seasoned.
Tough Love Yoga is a Registered Yoga School (RYS 300) through the Yoga Alliance. This 300-Hour Teacher Training is a registered program with the Yoga Alliance and will give trainees the requirements, along with your previous 200-hour Yoga Alliance registered teacher training, to apply as a 500-hour Registered Yoga Teacher with Yoga Alliance (RYT-500). Yogahour certification is not a requirement to apply for our 300-Hour program.
Training will be taught by TLY founder and yogahour teacher trainer Neda Honarvar (E-RYT 500) and guest instructors including Darren Rhodes (E-RYT 500, Founder of yogahour), Brigette Finley (E-RYT 500, Director of yogahour), Sam Rice (E-RYT 500, Lead Teacher Trainer for yogahour), Rachelle Knowles (E-RYT 200 and Founder of Cultivate Union), and more.
DATES & TIMES
We will meet over the course of these 15 weekends in 2020:
January 10-12
January 31- February 2
February 21-23
March 20-22
April 17-19
May 15-17
June 5-7
July 10-12
July 31-August 2
August 21-23
September 11-13
October 2-4
October 23-25
November 13-15
December 11-13
Each weekend's schedule:
Fridays, 6pm-9pm
Saturdays, 9am-6pm
Sundays, 9am-5:30pm
Please note: In addition to the listed weekends, trainees are required to attend a minimum of 4 classes per month (48 total) at Tough Love Yoga to graduate (special arrangements will be made for students traveling from out of town for this training). Tuition does not include the price of these classes. Trainees can drop into these classes using our regular $10 drop-in, 5 or 10 class cards, or by taking advantage of our $80 per month teacher trainee unlimited special.

Investment
Early Bird Special
$3300 for applications and deposits received by October 1, 2019
($600 deposit + $180 per weekend)
After October 1, 2019
Option 1: $3300 total for tuition paid in full by January 10, 2020
Option 2: $3600 total for payment plan ($600 deposit + $200 per weekend)

*Tuition does not include the price of required reading materials.
Please note that deposits and tuition are non-refundable.
Contact info@toughloveyoga.com to make arrangements if you would like to pay by credit card, as additional fees apply.
Applications are accepted on a case by case basis. All applicants are required to attend at least one Tough Love Yoga class with Neda prior to acceptance. If you live out of state and need to make special arrangements, please email Neda@toughloveyoga.com.

A $600 deposit is required with all applications. Please submit your deposit either in cash or check made out to Tough Love Yoga. If for some reason your application is not accepted, your deposit will be refunded in full.
Contact info@toughloveyoga.com to make arrangements if you would like to pay by credit card, as additional fees apply. Otherwise, you may either drop your deposit off at our studio or mail your application and check to:

Tough Love Yoga
1530 Dekalb Ave. NE, Suite D
Atlanta, GA 30307

MAKEUP POLICY
Successful completion of all assignments, scheduled teacher training hours (as detailed above), and 48 group yoga classes at Tough Love Yoga is required in order to graduate and receive your certificate. Exceptions may be made for special circumstances and emergencies at the discretion of our program director; however, any missed hours must be made up and will incur additional fees.
Please email Neda@toughloveyoga.com with any questions or concerns.